PRICES & TERMS
Because Bud the Birdman has a successful business location on Front Street in Lahaina, and earns hundreds of dollars per hour, Bud cannot disrupt or close his business to attend a convention show unless all negotiations are complete and Bud has received adequate payment in advance. Then, and only then, will a date be confirmed.
For example: let's say your convention group has 280 people, mostly married couples. Each set of five (5) postcard prints is $15.00, so Bud would confirm the date when he receives payment on 100 sets of postcards, or $1500.00. If during the course of the event he was to shoot 150 sets of pictures, there would be a balance of $750.00 due on delivery.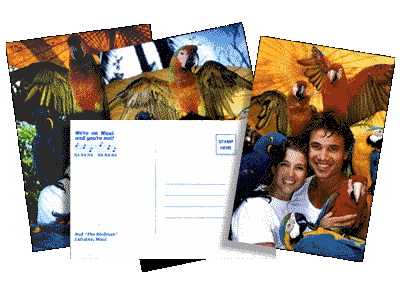 For this price, Bud will provide studio flash equipment, camera man or men, trained show birds, film and development. Each photo-packet will include 5 koday 4" x 6" prints and 5 adhesive postcard backings in a vinyl wallet with clear viewing window.
OTHER OPTIONS:
Bud can photograph the group and turn over the undeveloped film to the client at the end of the show.
Bud can also shoot Polaroid instant pictures. The client must provide a Polaroid camera and film.
Because of the many factors involved, these last two options will be negotiated separately with a minimum of $750.00 per show.
These prices are subject to change.
If Bud the Birdman is hired for a show, he is to be the only professional photographer at the event for which he is booked.
Bud reserves the right to stop his show at any time if there is danger to him or his birds, and he will not work the birds beyond their bedtime.