Bud the Birdman is a stand-up comedian & emcee, and has 10 of the best trained show birds in the world.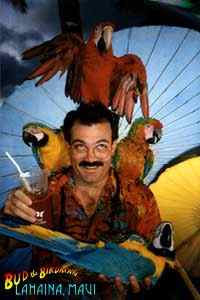 It's fun and safe to hold the birds, and Bud's spontaneous comedy antics and the tricks performed by these superbly trained show-birds create a fun and raucous experience that won't soon be forgotten.
Bud the Birdman will not only entertain your conventioneers but also include them in his improvisational comedy, as they hold the birds and are posed for personalized photo postcards.
What are personalized photo postcards? They are 4" x 6" photographs with sturdy adhesive backings that enable them to be sent through the mail.
This gift to the clients reaches far beyond the office cocktail party. It is a great incentive for employees when they receive a colorful Maui postcard of their co-workers posed with these spectacular trained birds.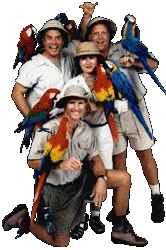 And, these are no haphazard snapshots. Bud has studio flash equipment, stage lighting, and a background set with giant Burmese hand-painted umbrellas (as pictured above). Professional video and audio services are also available.
All of this combined, the birds, the posing, the comedy and the mayhem, will provide a uniquely memorable time for your convention.